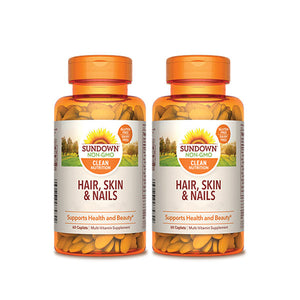 Sundown Hair Skin And Nails 60 Tablets Offer 2 Pieces provides nourishment from the inside, so you can look and feel your best. Our formula delivers 17 essential vitamins and minerals including Biotin and Vitamin C, which are both well-known for the way they nutritionally support hair, skin and nail health. Each serving of Sundown Naturals Hair, Skin, Nails Caplets provides 5,000 Mcg of Biotin. Additionally, Sundown Naturals Hair, Skin, Nails caplets are certified gluten-free and Non-GMO. and free of wheat, dairy, lactose and artificial flavors.
HOW TO USE:
For adults: take three (3) caplets daily, preferably with a meal. 
سن داون للبشرة والأظافر 60 قرصًا علبة + علبة توفر التغذية من الداخل ، حتى تتمكن من الظهور والشعور بأفضل ما لديك. توفر تركيبتنا 17 نوعًا من الفيتامينات والمعادن الأساسية بما في ذلك البيوتين وفيتامين سي ، وكلاهما مشهور بالطريقة الغذائية التي يدعمان بها صحة الشعر والجلد والأظافر. كل حصة من كبسولات سن داون للشعر والبشرة والأظافر توفر 5000 ميكروغرام من البيوتين. بالإضافة إلى ذلك ، فإن كبسولات سن داون للشعر والبشرة والأظافر معتمدة من أنها خالية من الغلوتين وغير معدلة وراثيًا. وخالية من القمح ومنتجات الألبان واللاكتوز والنكهات الصناعية.
طريقة الاستخدام:

للبالغين: تناول ثلاث (3) كبسولات يوميًا ويفضل مع إحدى الوجبات.
Very good
My hair and nails are getting better