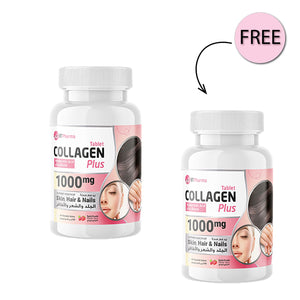 Bt Pharma Collagen Plus 1000mg Chewable 240 Tablets with biotin and hyaluronic acid, it enhances the freshness of the skin, prevents wrinkles & delays the appearance of signs of ageing increases the skin's moisture & hydration. Improves hair health. Reduces hair loss, thickens & strengthens the limbs.
Strengthens nails & prevents them from breaking.
HOW TO USE:
4 chewable tablets daily.
بي تي فارما كولاجين بلس 1000 مليجرام أقراص قابلة للمضغ مع الهيالورونك أسيد و البيوتين، يعزز نضارة البشرة ويمنع التجاعيد ويؤخر ظهور علامات الشيخوخة . يزيد من ترطيب البشرة. يحسن صحة الشعر. يقلل من تساقط الشعر ويثخن ويقوي الأطراف. يقوي الأظافر ويمنعها من التكسر.
طريقة الاستخدام:
4 أقراص للمضغ يومياً.
ممتاز
طعمه كثير زاكي وفي فرق صراحه حسيت شعري خف تساقط الي شهرين بستخدمه